ENSEMBLES 2018
Taipei Municipal JieShou Junior High School Wind Band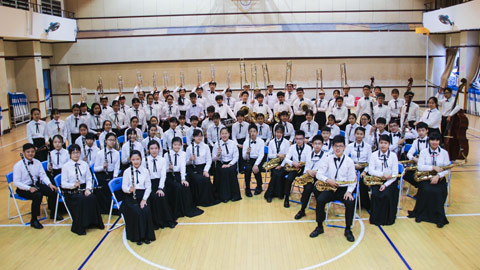 Taipei Municipal Jieshou Junior High School Wind Band was founded in 1999, and has come a long way under the direction of Professor Amy Chang and Conductor Shun-Sheng Cheng. The band is composed of seventh-grade and eighth-grade students at the school. The purpose of the band is to extend the musical education of the primary school, to train outstanding musical talents, to beautify life, and to enrich the students' worlds. Thanks to the support given by parents and the attentive care taken by the teachers and principals, the band has created a better learning environment for the students. Not only have they attained excellent achievements and have a high reputation in Taiwan, due to the sincerity and passion they bring to every performance. Their music aims to convey abundant emotion as well as to purify the mind of any listener.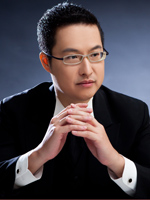 Shun-Sheng Cheng
Conductor
Graduated from Kuang Jen Catholic High School in New Taipei city; major in trumpet and minor in piano.
In 1998, passed the screening test of College Admission and entered the Music Department of Tunghai University, with major in trumpet and minor in piano and conducting.
In 2003, accepted by the musical graduate school of Taipei National University of the Arts, with major in orchestral conducting; graduated in June, 2005.
During the period of study, studied conducting with Prof. Annie Chung, Prof. Amy Chang, and Prof. Hsu Sung-Jen, and studied trumpet with Prof. Hsi-Jen Chen, Chung-Hsing Nie, Jung-Fu Hsu.
Currently conducting the Wind Orchestra of Taipei Municipal Jieshou Junior High School, the Wind Orchestra of Jieshou Alumni, the Wind Orchestra of Taichung City Nan-Yang Elementary School, and the Orchestra of New Taipei Municipal Zhongping Junior High School; also teaches trumpet in Hsinchu County Hukou High School and Kuang Jen Catholic Elementary School.
Awarded "The Best Conductor" of 23rd Chiayi City International Band Festival in December, 2014.
In 2015, lead the Wind Orchestra of Jieshou Alumni to visit Tokyo Higashiyamamoto High School in Japan.
SCL Artistic Program
Competition Program
| | | |
| --- | --- | --- |
| Thomas Doss (*1966) | | Trumpets and Bridges |
| Chia-Ying Lee (*1989) | | The Movement |
| Arr. By Chia-Ying Lee (*1989) | | The Taiwanese Folk Song Suite |
| Satoshi Yagisawa (*1975) | | Memories of Friendship |
Additional Concerts Program
| | | |
| --- | --- | --- |
| Kees Vlak (1938 - 2014) | | New York Overture |
| Satoshi Yagisawa (*1975) | | Memories of Friendship |
| Chia-Ying Lee (*1989) | | The Movement |
| Arr. By Chia-Ying Lee (*1989) | | The Taiwanese Folk Song Suite |
| Johann Strauss (1804 - 1849) | | Tritsch Tratsch Polka |
| Taro Hakase (*1968) | | Jounetsu Tairiku |