ENSEMBLES 2018
Corfu Children's Choir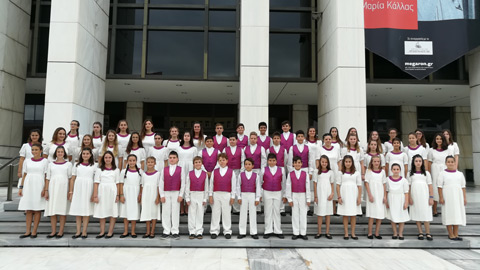 Corfu Children's Choir ("Paidiki Chorodia Kerkyras") was founded in 2010 as an initiative of Corfu Choir ("Chorodia Kerkyras", established in 1980) and its conductor, Christina Kalliaridou. This was done to cover the need for a permanent children's vocal ensemble in the local music life and to educate a new generation of choristers for the Corfiot choirs. Before entering the main body of the choir, younger children have the possibility to attend two preparatory ensembles for ages 5-7 an 8-12 respectively. Apart from its vibrant local activity, Corfu Children's Choir took part in the 8th International Festival of the Aegean (2012), in the 14th Festival of Sacred Music of Patmos (2014), in the 1st Kalamata International Choir Competition and Festival (2015, Golden Diploma), in the 1st Corfu International Choir Competition and Festival (2016, Silver Diploma), as well as at concerts in Athens and Thessaloniki. In 2017, it participated at the Claudio Monteverdi choir competition in Venice, where it received two awards: 1.Golden diploma in category children's choir and 2. the Grand Prix, as the best choir of the competition.
www.facebook.com/Corfu-Childrens-Choir
Christina Kalliaridou
Conductor
Christina Kalliaridou studied musicology at the Aristotle University of Thessaloniki (graduation: 1990), piano at the Macedonian Conservatory of Thessaloniki (Diploma, 1987), and bassoon at the New Conservatory of Thessaloniki (Diploma, 1995) as well as at the Hochschule für Musik und Dartstellende Kunst in Vienna (1990-1993). Since 1996 she has been working as a music teacher in primary education. She has also worked as an orchestra bassoonist (Symphony Orchestra of the Municipality of Thessaloniki, Orchestra of Colors, Athens Camerata). Living in Corfu since 2006, she founded Potamos Children's Choir in 2007, followed by Corfu Children's Choir in 2010. At the same time she became conductor of the Corfu (Men's) Choir. She attended master classes in choral conducting with J.A. Bartle, B. Astulez, A. van der Merwe, A. Kontogeorgiou, D. Rao and F. Sjöberg. In 2016 she obtained a Master's degree in choral conducting (for children's choir) from the Ionian University, Corfu.
SCL Artistic Program
Competition Program
| | | |
| --- | --- | --- |
| Johannes Brahms (1833 - 1897) | | Adoramus te, Christe |
| Karl Schiske (1916 - 1969) | | Sieh nicht, was andere tun op. 22 |
| Wolfgang Amadeus Mozart (1756 - 1791) | | Ave verum corpus |
| Z. Randall Stroope (*1953) | | Lux aeterna (from Missa) |
| D. Minakakis (*1951) | | Kortsópon lal' me (traditional) |
| Ch. Samaras (*1956) | | Ípne pu pérnis ta pedhiá (lullaby) |
Additional Concerts Program
| | | |
| --- | --- | --- |
| Th. Papakonstantinou (1948 - 1969) | | Exomologeisthe (Psalm 136) |
| K. Cheirdaris (*1984) | | Astra ("Stars") |
| J. B. Pergolesi (1710 - 1736), arr. by J. Bartle | | Fac ut ardeat (from Stabat mater) |
| H. Purcell (1659 - 1695) | | Sound the trumpet Z.335 |
| T. Shelton - C. Pruitt | | We sing Alleluia |
| M. Theodorakis (*1925), arr. by K. Kritsotakis | | Myrtiá ("Myrtle") |
| O. Peterson (1925 - 2007), arr. by S. Hovi | | Hymn to freedom |
| M. Theodorakis (*1925), arr. by N. Platyrachos | | Apríli mu ("My April") |
| Br. Graham - R. Løvland (*1945), arr. by R. Emerson | | You raise me up |
| traditional | | Apolytikion for St. Spyridon (Corfiot church chant) |
| traditional | | Axion esti (traditional hymn to Theotokos) |
| L. Perosi (1872 - 1956) | | Ave Maria |
| B. Chilcott (*1955) | | Be simple little children |
| B.A. Patton | | Exaudi! Laudate |
| K. Perry (*1984), arr. by A. Billingsley | | Roar |