ENSEMBLES 2018
OJPA ASPIRANTES - Alicante´s Youth Orchestra
The Orquesta de Aspirantes de la Provincia de Alicante, was founded after the OJPA success in 2012 encourage even younger talents in Alicante. The orchestra is currently made up of musicians between 8 and 14 years old from various music schools and conservatories in the Alicante region. The ensemble is conducted by Juan Miguel Antón García. Every year, the Aspirantes musicians have to pass an audition to be accepted into the orchestra. Under the guidance of their 2 Maestros, teachers and OJPA´s members, the 70 young and passionate musicians are given the unique opportunity to improve and complete their musical learning experience within a symphonic orchestra. The young musicians learn 2 new programs per year. Teaching and transferring performing technique, and discipline using each member's individual musical talent are some of the goals that allow us to provide the older ensemble, the OJPA, with new and valuable members. Both orchestras work together in order to obtain similar goals at completely different ages and performing levels. The Aspirantes musicians take part in almost all the events that the Youth Orchestra organise, such as Master Classes, joint rehearsals and concerts. Together they appear as a perfect union bounded by their passion and talent. Since 2012, the Aspirantes performed around 6-10 concerts per year, in the Alicanteprovince and abroad. They also take part, together with the older Youth Orchestra OJPA, at FIJO (International Youth Orchestras Festival in Alicante). The orchestra is well known for its regular Charity Concerts, for its engagement with Alicante's cultural life and itscollaboration with several NGOs. The orchestra is particularly proud of its cooperation with the General Hospital of Alicante , where they give annual concerts for the patients in the paediatric oncology department. This year, the Aspirantes are happy to come back to the music capital Vienna and to continue with its annual program.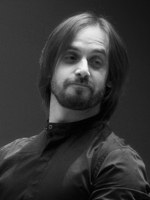 Juan Miguel Antón García
Conductor
Juan Miguel Antón García was born in Alicante, where he started his violin studies at the Óscar Esplá Music Conservatory with Vicente Antón and later obtained his Master in Research and Interpretation of the musical trends Andalucismo and Alhambrismo. In 2012, he started his conducting studies under J.de Eusebio in Spain and became the conductor of OJPA Aspirantes Orchestra. Since 2012, he has worked as assistant conductor for the OJPA in many concerts in Spain and abroad. He actively participates in local music activities as a member of Jury. He has worked with remarkable soloists such as P. Macià, M. Arnouk, L. Espinosa, D. Cervera, J.A. Antón Suay. In 2016 Juan Miguel Antón García participated as chief conductor with his orchestra OJPA Aspirantes at the Summa Cum Laude International Youth Music Festival in Vienna obtaining the 3rd prize in the category/section of Symphonic Orchestras. Currently Juan Miguel continues his work as Conductor and Musical Director of the OJPA Aspirantes, as well as teaching violin at the Music School Mestre Alfosea in Santa Pola, Alicante.
SCL Artistic Program
Competition Program
| | | |
| --- | --- | --- |
| Ludwig van Beethoven (1770 - 1827) | | Coriolan Overture 2.2.2.2. – 2.2.0.0. – Pk – Str |
| Camille Saint-Saëns (1835 - 1921) | | Samson et Dalila, Danse bacchanale |
| Arturo Márquez (*1950) | | Danzón nº2 |
Additional Concerts Program
| | | |
| --- | --- | --- |
| Johannes Brahms (1833 - 1897) | | Ungarische Tänze nº5 |
| Charles Gounod (1818 - 1893) | | Funeral March of a Marionette |
| Camille Saint-Saëns (1835 - 1921) | | Danse macabre, op.40 |
| Ludwig van Beethoven (1770 - 1827) | | Coriolan Overture |
| Camille Saint-Saëns (1835 - 1921) | | Samson et Dalila, Danse bacchanale |