ENSEMBLES 2013
Jugendkammerorchester VIOLINISSIMO, Erding
The youth chamber orchestra VIOLINISSIMO was founded by the violinist Ulli Buesel in 2004 to allow children and young people to present their solo pieces with orchestra accompaniment within the framework of charity concerts.
Hereby, the young soloists lead the orchestra themselves. Consequently, they do not only have their own melody in mind, but also understand the connection of all instruments.
Listening, looking, reacting and still self-determined and individual playing all belong to the main principle.
This concept was transferred by VIOLINISSIMO and its artistic director Ulli Buesel also to orchestra pieces, meaning that e.g. the first violin players know, what the Cello players do or the second violin players hear, where they are acting together with the viola players. That leads to a highly improved understanding of the composition.
In principle, this means to transfer the chamber music idea to a whole orchestra: Though the principal players of each group cue the other players, there are no passive players. Everyone has to come in and perform actively. Everyone can rely on everyone else. This leads to a distinct team spirit, which is even more surprising considering the huge age differences of the players (the young musicians are aged 12 to 26).
Almost all members of VIOLINISSIMO are award winners of the competition "Youth makes music". Besides regular charity concerts in the district of Erding, the youth chamber orchestra VIOLINISSIMO is winner of the Bavarian Orchestra Competition 2011 and the German Orchestra Competition 2012.
In July 2012 VIOLINISSIMO presented Germany at the Singapore Youth Festival. In 2012 Ulli Büsel and the Youth Chamber Orchestra got the Tassilo Culture Award granted by the Sueddeutsche Zeitung.
In the same year the Ensemble was honored with the signature in the Golden Book of Erding (near Munich), the hometown of VIOLINISSIMO.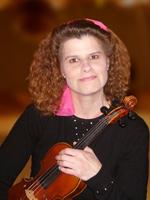 Ulli Büsel
Artistic Director
The Artistic Director Ulli Buesel was born in Austria and studied violin in Vienna and Salzburg. In 1993, she finished her studies with the concert diploma at the university "Mozarteum" in Salzburg. She won several awards at federal competitions of "Youth makes music".
From 1987 until 1994, she was principal second violin player of the chamber orchestra "Sinfonietta Salzburg" and the "Chamber philharmonic orchestra Salzburg". In addition to solo concerts, recitals and chamber music evenings in Germany, concert trips led her to Italy, Spain, Germany, Austria and Asia.
Since 1995, she has been living with her family in Erding near Munich. Besides her teaching activity, Ulli Buesel gives concerts with various chamber orchestras and as a soloist with members of the Symphony Orchestra of the Bavarian Broadcasting and the Munich Philharmonic Orchestra. Furthermore, she is a member of the Classical Philharmonic Orchestra Erding. Since 1997, she has also been playing together with the organist Georg Rothenaicher, with whom she performs at recitals and church concerts in Bavaria and Austria (e.g. Herz-Jesu Church in Graz, Church of the holy 12 apostles in Munich, Basilica Wilten in Innsbruck).
Competition Program
| | | |
| --- | --- | --- |
| W .A. Mozart | | Divertimento B- flat Major, 2. Allegro di molto, 3. Allegro assai KV 137 |
| Markus Bauer (*1994) | | "Was es mit sich bringt" Auftragskomposition für das JKO VIOLINISSIMO 2011 |
| Giacomo Puccini (1858-1924) | | Crisantemi 1. Andante mesto |
| W.A. Mozart | | Adagio und Fuge, c-minor, KV 546 |
Additional Concerts Program
| | | |
| --- | --- | --- |
| W. A. Mozart | | Adagio und Fuge c-minor, KV 546 |
| G. Puccini | | Crisantemi, 1. Andante mesto |
| M. Bauer | | Was es mit sich bringt (Auftragskomposition) |
| J. Suk | | Serenade for strings, E-flat Major, 2. Walz |
| J. Massenet | | Meditation from Thais (Soloist: Clara Büsel) |
| W. A. Mozart | | Divertimento, B- flat Major, 2. Allergro di molto, 3. Allegro assai |
| J. Strauss | | Frühlingsstimmenwalzer |