SCL Band Festival
Tour dates:
2022: July 11 – 19
2023: July 10 – 18
2024: July 08 – 16
2025: July 07 – 15
2026: July 13 – 21
The Summa Cum Laude International Band Festival invites marching bands, concert bands, wind and brass bands from around the world to join performers and participants in a showcase of musical magnificence. Performances are held in the most astounding surroundings and historical locations.
The bands can gain the unique experience of marching in the enchanting atmosphere of the imperial capital of music – Vienna.
We invite international bands to participate in two unrivaled European Festivals for marching bands. On this tour you can combine performing in the traditional Mid EUROPE in Austria's central region Styria with its mighty glaciers and the Summa Cum Laude International Band Festival in Vienna offering historical sceneries and the most famous stages for music at the same time. We also offer tailor-made solutions to combine the festival with a European tour.

We organize concerts, marching experiences, workshops and lectures at your convenience. Simply contact us and together we will create a one-of-a-kind experience for your band.
European Concert Tour for Bands
Munich – Salzburg – Mid Europe Schladming – Vienna
(Sample Tour – Options available)
Munich – 2 nights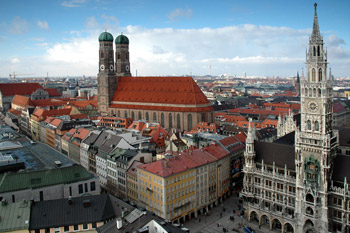 Arrival at Munich Int. Airport
• English-speaking tour manager experienced in concert tour management
• Deluxe air-conditioned private coach
Guided city tour with English-speaking local guide
• See the Frauenkirche (Munich Cathedral), the City Hall with its Glockenspiel on Marienplatz, the Residenz Palace and the Opera House.
and / or Salzburg – 2 nights
Guided city tour with English-speaking local guide
• Explore Salzburg Dom, Festival Hall, Mirabell Palace and Mozart's Birthplace (Entrance included)
Schladming – 3 nights: MidEurope
Mid Europe Schladming 2023
• MID EUROPE is one of the most important international festivals for wind bands, and proudly presents an enormous stylistic variety of the highest quality. Old and new, familiar and unfamiliar, traditional and progressive, regional and international are offered.
Indoor and/or outdoor Concerts in Schladming region

Competitions Workshops and Masterclasses for Conductors
The LONG NIGHT OF MUSIC and The Schladming TATTOO - the marching music show
Vienna - 3 nights
Opening Ceremony of the SCL Festival for Marching and Wind Bands at St Stephens Cathedral
Guided city tour with English -speaking local guide in Vienna
• Explore the Inner-city Vienna and Ring Road including Schönbrunn Palace Highlight Tour and visit to Zentralfriedhof
Concert Performance in Vienna or surroundings
Attend a master class workshop in Vienna with international lecturer
Gala Concert
• At the Konzerthaus
• Group Picture
• Each Ensemble or part of ensemble will be able to perform one piece for all other participating ensembles

Award Ceremony and farewell reception at the Vienna City Hall
All logistical details such as Hotel and transport are available upon request.